Latest Trending Blogs
Find the latest updates and expert advice on the best properties in India. Filter out the deals that are shady. Know how to find the best property offers around you.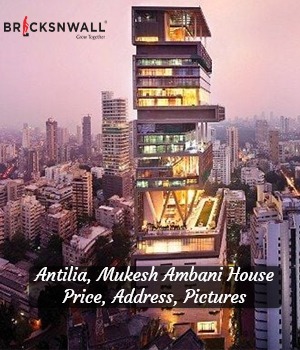 By Bricksnwall | 2023-08-25
Antilia: Mukesh Ambani's Iconic Residence
Antilia, the extravagant and opulent residence of business tycoon Mukesh Ambani, stands tall as an image of grandeur and comfort within the bustling metropolis of Mumbai, India. Named after the legendary island inside the Atlantic Ocean, this architectural wonder is a testimony to modern-day extravagance and engineering excellence. In this blog, we explore the captivating details of Antilia, its magnificent fee, prestigious address, and charming images that leave the world awestruck. The Price Tag that Dazzles: Antilia's fee tag is nothing short of spectacular. Estimated to be one of the maximum expensive pers...
---
By Bricksnwall | 2023-08-24
Akshay Kumar House Mumbai: Address, Inside Tour and Images
Akshay Kumar, the Bollywood 'Khiladi', owns a lavish residence near Juhu Beach. The same faces the mesmerising waves of the Arabian Sea. This house is not only a landmark for fans visiting Mumbai. But also a topic of interest for thousands of netizens. Thanks to regular updates shared by his wife, Twinkle Khanna. She is a successful designer, author, and columnist.The Address and Price:Located at 11 Juhu Tara, Juhu, Mumbai, Maharashtra. The estimated price of Akshay Kumar's home is a staggering 80 crores. Its enviable position with a large lawn facing the ocean. His house is adorned with statement artwork like the Buddha out...
---