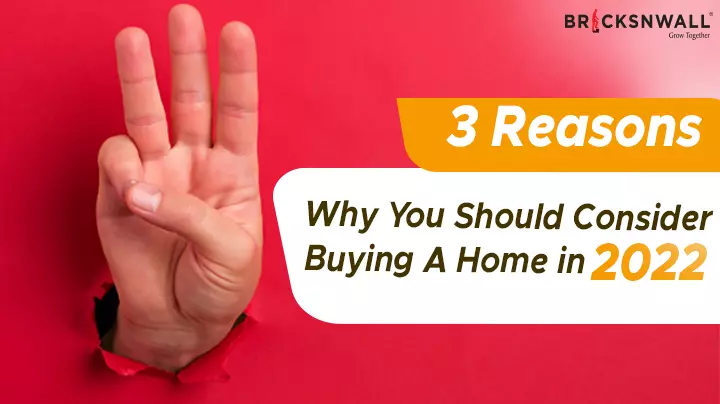 Landlords build up wealth while sleeping, without working, risking, or economizing. Do you want to be a landlord as well?
Presently, the Indian real estate sector is undergoing a paradigm shift. Since the implementation of demonetization and the Goods and Services Tax (GST), the country's real estate market has been quite stagnant. Even though these reforms will significantly improve the sector, they must first overcome the initial, time-consuming obstacles.
In fact, from an investment standpoint, there is no better time than the present for home buying in India. In this blog, we will look at some of the best reasons to buy a home in India in 2022.
Reasons To Buy A Home In 2022

1. The sense of safety


Paying your home loan EMI on a monthly basis may appear to be a financial burden, but it is a commitment that is well worth keeping.
In fact, no other investment is likely to provide you with higher returns than home buying. Currently, interest rates are low, and consumer interests are protected thanks to RERA. If you find yourself in a position to obtain a home loan, 2022 is the year to do so.

2. Interest rates on home loans have decreased.


Some of India's leading financial institutions have slashed home loan interest rates in recent months in an effort to increase their home loan portfolio. State-owned banks cut their marginal cost of fund-based lending rate (MCLR), effectively lowering the interest rate to 8.30 percent. Many economists now believe that interest rates will continue to rise.
Private banks such as Axis Bank, Yes Bank, and IndusInd Bank have already signaled a shift in the interest cycle by raising their MCLR by 5-10 basis points. As a result, now is the time to enter the market and obtain a home loan at a low-interest rate before they arise.
3. Tax Advantages of Getting a Home Loan


Aside from paying for your dream home, one of the best aspects of taking out a home loan is that a portion of the EMI you pay can be claimed as a tax deduction.
The tax benefit on the interest component of the home loan EMI is discussed in Section 24 of the Act. The maximum tax deduction available for this is Rs.2 lakh. Furthermore, under Section 80EE of the Act, first-time homebuyers can claim an additional deduction of Rs.50,000.
Take the Best Free Home-Buying Advice from Bricksnwall Consultants!


Consulting with a home-buying consultant can be an excellent approach to help you figure out the best strategy to reach your closing objectives.
If you determine that purchasing a house is the best option for you, call a Bricksnwall Consultant to explore your home buying advice alternatives and get home advice on how to find your peaceful place.