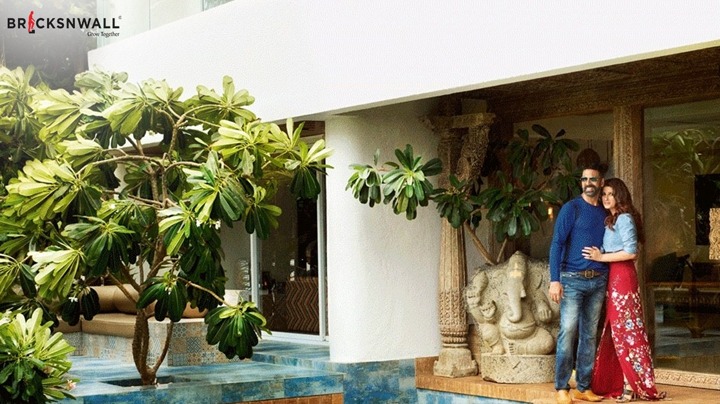 Akshay Kumar, the Bollywood 'Khiladi', owns a lavish residence near Juhu Beach. The same faces the mesmerising waves of the Arabian Sea. This house is not only a landmark for fans visiting Mumbai. But also a topic of interest for thousands of netizens. Thanks to regular updates shared by his wife, Twinkle Khanna. She is a successful designer, author, and columnist.
The Address and Price:
Located at 11 Juhu Tara, Juhu, Mumbai, Maharashtra. The estimated price of Akshay Kumar's home is a staggering 80 crores. Its enviable position with a large lawn facing the ocean. His house is adorned with statement artwork like the Buddha outside. This, in turn, contributes to its luxurious appeal.
Other Properties:
Akshay Kumar's real estate portfolio is impressive. He has invested in a luxurious apartment in Mumbai's Khar worth 7.8 crores. Also, sold an office property in Andheri for nine crores. He also owns a luxurious villa in Goa, an entire hill bungalow. Not only this, but even several apartments in Canada and a premier home in Mauritius.
A Peek Inside:
No wonder it is designed by Twinkle Khanna herself. This mesmerising duplex at Prime Beach in Juhu features a delightful pond. It is worth noting that it is in the living room and has an earthy, nature-friendly theme throughout. The upper level boasts a dominant grey colour theme, creating a stunning ode to the couple's taste.
Natural Vibe and Farming:
His home got a natural vibe, thanks to his wife and her thoughtful design choices. The incorporation of organic and nature-friendly elements creates a warm and inviting ambience. And that too throughout the house. The mini-farm within the property adds a unique touch. A place where the family grows their own tomatoes, brinjals, mangoes, and sapotas. The lush vegetation, including trees and blooming plants. Overall, this contributes to a serene and welcoming environment. The family enjoys spending quality time outdoors, playing games like:
Backgammon and

Ludo on a cosy daybed on the balcony.
This farming and natural aspect sets Akshay Kumar's home apart. No doubt, it offers a peaceful escape from the bustling city life.
Unique Features:
One of the most unique features of Akshay Kumar's home is its seamless integration of nature. A perfect combination within the living space is something that everyone appreciates. The same earned the title of "a beautiful oasis amidst the urban mayhem" by Vogue India. Twinkle Khanna's masterful design turned an old bungalow into a breathing work of art. The house is filled with contemporary artwork from emerging and renowned artists. These all add a touch of elegance and personality. Moreover, the mini-farm with its vegetation patch, half-forest and half-farm, along with a serene pond featuring a Buddha head rising from the water, makes it a truly nature-friendly and tranquil retreat in the heart of bustling Mumbai.
Final Thoughts:
Akshay Kumar's house in Juhu is a luxurious haven by the Arabian Sea, where he finds solace with his family, pets, and nature. With his smart investments and thriving career, Akshay Kumar proves to be both a talented actor and a savvy entrepreneur. As his fans eagerly await his new movie, they can't help but admire his stunning home, an epitome of luxury and elegance in the heart of Mumbai.