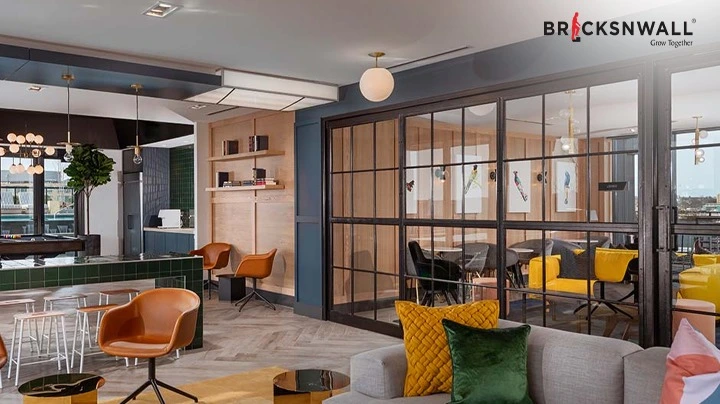 People are increasingly choosing to co-live insignificant cities throughout the globe and in India rather than buying property for themselves. In contrast to the conventional perception that young people and teenagers favoured such a dorm-like lifestyle, this practice is now permeating well into adulthood. The real estate market is paving the way for this trend worldwide. Since 2015, funding for these co-living spaces has grown significantly by 210% yearly, amounting to more than $3.2 billion. The idea of co-living has also evolved from a tiny community of units with basic rooms and a shared area to more conventional and upscale multifamily or student housing.
The beginning
Young professionals who opt for single life are the origin of co-living. Still, it is not limited to this group and has a broader demography of persons between the ages of 25 and 50 who make at least $40,000 to $90,000 annually. The fact that the existing income stream cannot afford the more expensive areas located in the cities further increases the demand for such spaces. The younger generation is discouraged from entering the real estate market because real estate markets are becoming unaffordable due to inherent problems like artificially inflated pricing. According to statistics and investments made in the co-living business, the co-living agenda is about to go global. The flexibility of lease agreements, furnished apartments, fitness centers, and even co-working spaces are further conveniences for these living arrangements. The trade-off may be smaller bedrooms with more facilities, and demand is also present.
Co-living spaces are currently attempting to give what people need by fusing technology with in-depth industry knowledge. The demand and supply imbalance in Indian real estate is the main issue; the Model Tenancy Law recognizes this problem and offers a remedy for bringing some order to the currently disorganized rental housing industry. Due to the growing need for these services among today's generation, co-living businesses can use this as an excellent opportunity to market their services and raise the market's position. Simply put, this makes life more pleasant and transparent.
Advantages of co-living spaces
Co-living spaces are also excellent for focusing on the unsold inventory that traps developers in a vicious loop where they cannot build new units because they cannot sell the ones they already have and generate the necessary finances. Most of India's population, or the younger half, is under 29. Most of them have migrated from rural to urban areas in quest of better jobs, better lifestyles, and an overall rise in the standard of living. However, inexpensive housing is a basic need for a stable residence and is frequently a problem in Tier-1 and Tier-2 cities. Despite all these issues, there is another problem with ghost homes in India's real estate market. Co-living companies enter this mess; they turn unsold residential spaces into fully furnished, comfortable apartments with a wealth of facilities and top-notch quality.
Bengaluru has stayed caught up in other major cities offering co-living places to meet millennials' demands, including Delhi NCR and Pune. For instance, the shared living operator CoLive holds a 50% stake in the Salarpuria Sattva company. We Live, another international business, is in talks to partner with Embassy Group. Stay Abode Ventures and CP Developers have proposed a joint vision for Bengaluru to be home to Asia's largest co-living complex. In conclusion, the co-living idea has already begun to change the real estate market in several cities, particularly IT centers like Bengaluru. Investors are already aware of the genuine potential of this industry and the fact that it will serve as a reliable source of rental revenue, even though there are now few organized competitors in the market. Major city housing markets are now switching from proprietorship patterns to service models.
As was already noted, real estate developers are taking the helm of the high potential if implemented appropriately, and there are active investment opportunities in the real estate market development to represent this transformation in reality. Real estate developers have a history of purchasing homes and leaving them unoccupied for extended periods. By doing this, they may control the market and drive up prices, making middle-class people unable to buy them. Now, with the entry of co-living companies into this market, the lack of affordable housing is on the road to a workable solution through partnerships with real estate companies. Most co-living market players deal with asset-light situations, in which the real estate companies have the side of the deal to fulfill.
The co-living business also popularized the plug-and-play idea, which the real estate industry had not previously encountered. Co-living has entered the market, giving businesses in the sector the luxury of dealing with a full-stack strategy that provides tenants with a full-service approach and end-to-end maintenance. Additionally, they have made moving houses incredibly simple by providing fully maintained, ready-to-move-in homes, leaving residents to focus on their items. Additionally, there are many different residences to choose from, giving the buyer freedom regarding factors like style, price, and location.
Given that modernity is indicated, it is not surprising that these venues also incorporate cutting-edge and contemporary technology. Buyers can also virtually take 3D tours of many possibilities before deciding, eliminating the need for additional trip inconveniences. They can also utilize the technology to imagine the limits of interior design that best fits the theme and concept. In this way, businesses are making use of technologies like the Internet of Things (IoT), Virtual Reality (VR), and Artificial Reality (AR) to give customers the finest services possible.
Why will co-living be the future of real estate?
The phrase "community living within the supplied groupings of different asset classes that gives privacy within shared common facilities" served as the basis for co-living. There is a community-centered environment with sufficient privacy in living arrangements and the necessary social involvement and contact through local events. The concept emphasizes living with like-minded individuals who can inspire you as a working community member. The 440 million millennials in India and growing appear to be embracing the co-living idea in all the country's main Tier-1 cities. The shared use of rented spaces like standard rooms, kitchens, and balconies, which represents an inexpensive choice while being a member of an active community, is how co-living areas advance through the renting philosophy. The complexity of modern technology also helps inhabitants maintain the idea of sustainable living and, more generally, encourages social engagement. For individuals seeking a non-fixed asset model, renting a co-living space is ideal because it offers complete flexibility, full furniture, and facilities for service and maintenance.
According to the plug-and-play paradigm, all maintenance and servicing requests are handled automatically without the renters having to get involved. This saves on utility costs, making it an efficient financial strategy. Co-living naturally becomes a more practical idea as demand for co-working spaces and carpooling choices rises in India. Within the co-living industry in India, there are two models available: lease-and-operation and complete ownership (with the management of operation). The first is a more widely used idea in which a third party operates the area made available for rental purposes. However, the operator does not own any real estate. Instead, it leases it from the owners and sublets it to other prospective tenants.
The owners of properties in the latter category typically manage, convert, or entirely reposition their properties from their current form into co-living places. No third-party operators are involved in this business, and all revenues go to the owner, who invests them in property management and other funding prospects for business expansion. With the arrival of more than 150 million millennials to the metropolitan area and the anticipated demand resulting from this circumstance, the real estate firm JLL asserts that India will set the standard for co-living spaces in the Asia-Pacific region. Over 10 million of India's 35 million students have moved to other cities due to the severe shortage of affordable housing. This problem affects many recent graduates and early-career professionals. Hence workable solutions must be found to close the gap.
Affordable housing is a crucial issue that needs to be addressed because most people who need it are students who do not have a high or reliable source of income, which makes looking for a home a burdensome task, especially in major cities. This example is even more starkly evident in Mumbai, where earnings are rising more quickly than in other cities but where it is impossible to find cheap housing. Apart from being more affordable, shared-living arrangements are appealing because they are more convenient and have a friendlier community feel than single-minded landlords and people who are reluctant to accept housing without first getting married. Due to this, the co-living industry has reached and is continuing to reach a value of Rs. 845 crores. The initiative will earn a $2 billion milestone in 2022 with increased production and demand, which will eventually result in formalization.
Co-living will soon be a concept that is more the norm than a modern concept with various age groups residing, giving rise to a new residential experience than what had been available in India up until players like OYO and Zolo entered these spaces throughout key cities in India.