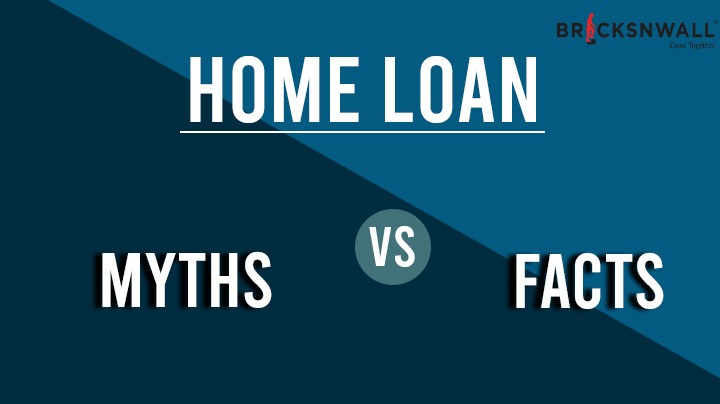 However, only some have the funds to purchase a home outright, which is why home loans exist. People frequently use home loans to fund the purchase of their ideal residences. But there are several myths and misconceptions that people have about home loans. By understanding the facts about home loans, you can make informed decisions and find the right home loan for your needs.
This blog will discuss some common myths about home loans and provide facts to debunk them.
Myth - A High Credit Score is not required
One of the most common myths about home loans is that you don't need a high credit score to qualify. This couldn't be further from the truth. Your credit score is one of the most important factors lenders consider when approving your loan application. Your credit score reflects your ability to manage credit and your financial responsibility. If you have a low credit score, it will be challenging to get a home loan, and even if you do, you'll likely end up with a higher interest rate.
Fact: A High Credit Score is required
One of the biggest purchases a person can make in their lifetime. A high credit score is essential when applying for a home loan. The minimum credit score for conventional loans is usually 620. However, to qualify for the best interest rates and terms, you'll need a credit score of at least 740. So, if you're considering buying a home, ensure a good credit score before applying for a loan.
Myth - Down payment requirements are too high.
Another common myth about home loans is that you need a large down payment to buy a home. While it's true that a larger down payment can make it easier to qualify for a loan and may result in better interest rates, it's only sometimes necessary to have a substantial down payment.
A Down Payment is required, but It Can Be Small.
When you purchase a home, most lenders demand a down payment. The type of loan you're getting and the lender's requirements, among other things, will determine how much you have to put down. A typical amount you'll need to put down when buying a home is between 3% and 20%. However, some loan programs, such as VA and USDA loans, offer 0% down payment options for eligible borrowers. So, while a larger down payment can be beneficial, it's only sometimes necessary.
Home loans can be a great way to finance your dream home, but it's essential to separate fact from fiction regarding the application process. Remember that a high credit score is necessary when applying for a home loan, and a substantial down payment is only sometimes needed. Before applying for a home loan, ensure you understand the requirements and are in an excellent financial position to take on this significant financial responsibility.
In summary, it's essential to research and understand the facts before applying for a home loan. Refrain from falling for common myths, such as not needing a high credit score or a substantial down payment. Remember that a home loan is a long-term financial commitment, so take the time to understand the requirements and ensure you're ready to take on this responsibility. It is also essential to understand the home-buying process, including getting pre-approved for a mortgage, finding the right home, and closing the deal. With the correct information and guidance, you can navigate the home-buying process and achieve your goal of owning a home.