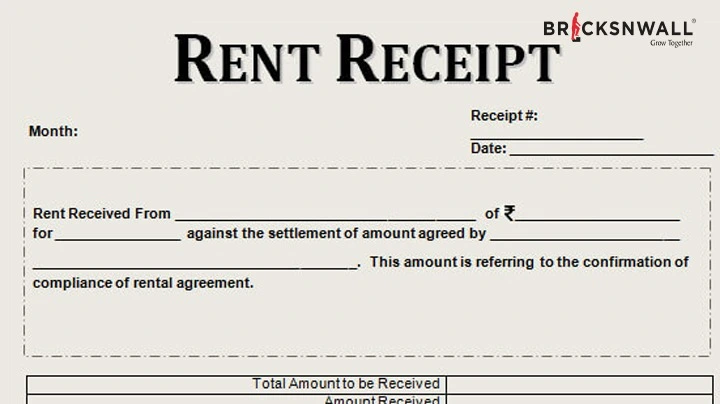 Introduction
Every time we purchase any type, we receive a receipt that documents the transaction's date, time, price, and method. These receipts are crucial for tracking our expenses and serving as evidence that the transaction took place. The first thing you do after making an expensive purchase is to check the receipt and carefully store it.
What exactly are rent receipts?
Rent receipts should be understood in terms of their economics and logic. A rent receipt evidences the payment of rent by a tenant to a landlord. When the landlord receives the rent from the tenant, he signs a rent receipt (a piece of paper) and gives it to the tenant. If you have a rent receipt, you should store it among your essential paperwork. If you are eligible, rent receipts may be used for tax benefits or legal proceedings (if any). Rent is a significant expense, so we must be cautious in obtaining and preserving our rental receipts. Here are some further justifications:
To reduce taxes
You must pay income tax at a specific rate when your salary exceeds Rs. 2.5 lakhs. Claiming your HRA, or house rent allowance, a part of your salary, is one way to reduce your payments. You wouldn't be required to pay tax on the HRA portion of your income after that.
If you pay your landlord's or your parents' rent each month, you can make this claim. You must provide evidence that you are paying tax to deduct this expense or receive a refund on your income taxes. Rental receipts are used as this proof. If you want this claim to be accepted, your employer will require you to produce these either once a month or a minimum of three to six receipts.
To keep a record
It's vital to have proof that you're paying your rent on time and on schedule when renting a home from a landlord. You need evidence of this transaction, particularly if you're spending your rent in cash. If you don't have any documentation that the rent has been paid, the landlord may be able to evict you with ease because you will not need to provide evidence to the contrary. Because you lack rental receipts to support your position, the court will likely rule in favor of your landlord if your case is brought before one.
To resolve conflicts
There are occasions when you and the landlord verbally agree on who will pay for maintenance or repairs, and that arrangement is reflected in the rent. A rent receipt will ultimately serve as unequivocal evidence of when, how often, and how much you, as the tenant, paid for repairs. Without it, you might find yourself disputing with the landlord because there would be no record or evidence as to why the overall rent payment was less.
Why are rent receipts necessary?
Rent receipts are acceptable proof of rent payment to the employer to claim house rent allowance (HRA). After validating the same, the employer can grant deductions and allowances. The rent receipts will be used to calculate the HRA allowance.
Essential elements of a rental receipt
• Date of Payment
• Rental Period
• Tenant Name
• Landlord Name
• House Address
• Signature of the Landlord
• PAN No. of the Landlord
• Revenue Stamp
The importance of HRA
A portion of the income provided by an employer to his employees in exchange for their rented housing is known as House Rent Allowance (HRA). While staying in a leased home, one may claim an HRA exemption.
If you are a salaried employee who receives a house rent allowance (HRA) and lives in a leased home, you may continue to get a tax exemption instead of the HRA under Section 10(13A). Self-employed individuals may also be eligible for tax deductions under Section 80GG of the Income Tax Act.
Factors affecting HRA
Four essential components are taken into account when calculating HRA. All these are the following:
• Your salary
• The HRA you get
• The lease, for which you pay
· Mortgages and HRA Perks
If you have a mortgage and are taking advantage of tax benefits related to that mortgage, you may still benefit if your employer gives you an HRA allowance. You will likely rent out your space to someone else and live in rented housing. However, in these circumstances, you must fully account for any rental income you receive while keeping in mind "cash flow from various other resources."
Your property rental will appear to be much more manageable during tax season, as it usually does. It will surely deliver you more considerable benefits than you'd anticipated.