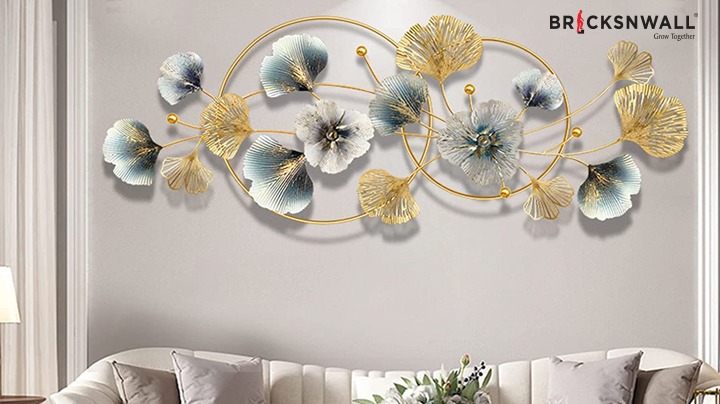 Usually, a house's living room is its centre. It is an ideal place for you to display your artistic abilities. Whether you like to sit around the house with your friends and watch movies, or you want to relax with your family and read along as you go about your daily routine, this place is the best place for that. You can tell a lot about yourself through the art you have on the walls of your living room to visitors you invite over. Everyone worries about how to decorate their living rooms, but it can be hard. Decorating a living room with artistic accessories and gadgets should be practiced by everyone because the living room is a place that everyone notices and compliments the most, whether it is your family, friends, or your guests that you have invited to your home.
There is a connection between depression and anxiety and a blank wall. Regardless of how beautiful the wall paint is, if it is not decorated properly, it can look boring and leave visitors with a poor impression. In both home and owner, wall art shows the beauty and standards. It is like an artist without creativity to have a wall without beautiful and valuable decorations.
Here are some excellent, budget-friendly ideas for renovating your living room on a budget.
Abstract Paintings
Among them are paintings that boost people's mood due to their creativity and psychological impact. Art equipment like the paintings shown here can help you transform your boring walls into something more captivating. There are many reasons why large abstract paintings could be ideal for aesthetic purposes in a living room since they can be arranged in different ways depending on the aesthetic appeal the painting needs. These paintings include the formal artistic elements of lines, colors, textures, shapes, patterns, etc., that contribute to the space's overall design.
Add elements of greenery
Your home will never go out of style with greenery. Adding the same to a space can enhance the aesthetic appeal of almost any setting, from leafy nurseries to pretty flower pots. Plants that grow in tropical climates and palm fronds transform a living area into a stately residence that will impress anyone. The rustic look of a vintage glass bottle can be changed by adding green leaves and using it as a centerpiece on the table. With the addition of green leaves, a vintage glass bottle can be transformed into a beautiful table centerpiece.
Furnistic Equipments
The presence of wood in a living room is one of the best ways to give it a warm feel. Any of these techniques can make your room more attractive through the incorporation of wood. Some of the options you may consider are wall panels, side tables, sliding chairs, picture frames, sofa legs, and sculptural pieces. Choose a stapler if your walls are crisp white and your staples like couches and coffee tables are neutral. It could be anything from a bright piece of art to a bright rug.
Deciding a colour palette
Color schemes play a major role in interior design. In a home, colors, furniture, natural elements, decorative details, lighting, and fixtures play an important role. Your choice of color palette will make your living room more attractive and lively. Color connects to everyone who enters your home for whatever reason. This will add more texture to the living room, improve the mood of the person sitting there, and revitalize the dull atmosphere.
Try adding Mirrors
In terms of home accessories, mirrors are widely used and extremely useful. Mirrors today can be installed anywhere and look great on any style of home. Mirrors increase the size of small spaces, so homeowners use them in narrow hallways and living rooms. When it comes to creating the perfect focal point, you would want to use a mirror with a decorative frame. Basically, a mirror is used to reduce the reliance on artificial lighting by reflecting the light through a window or door.
DIY Arts and Patterned Wallpapers
You can open up a space easily using wallpaper and artwork for your interior design. Shapes and colors with bright colors can amplify an already big area or create the illusion of space. Wallpaper colors and patterns can dramatically alter the character and mood of interior space. If you want to add personality to your room, artwork and wall murals should be a consideration, whether they are on just one wall or throughout the entire room.
Electric Fireplace
Having an electric fireplace store in your living room can not only enhance the style and space but also the functionality. There is another advantage of electric fireplaces, and that is the fact that they do not require a lot of cleaning plus, they are able to change the entire look of your living room by adding both warmth and volume. It has been demonstrated that using a fireplace that runs on electricity requires significantly less maintenance in comparison to a conventional fireplace since no fuel needs to be changed regularly.
Redefine your ceiling
If you want to draw attention to your interior, you might want to consider remodeling your ceiling in an aesthetic manner in order to highlight it. The presence of high ceilings in your living space will give your room an impression of being bigger, brighter, and more relaxing as well. It's fireproof, heat-insulating, and sound-proof.
Easy-To-Move Tables and Chairs
A small room doesn't need a lot of furniture. You can do that if you want to put a table in front of a window or on a shelf. Hence, the room can be better organized and utilized. With the addition of easy-to-move tables and occasional chairs to your living room, it is possible to create a comfortable environment for you and your family members.
Table Lamps and Portable mats
Adding electric lamps and rugs to your table would definitely be a wise choice if you feel like it doesn't fill the void and is lacking various elements that could give it more texture, or what you need to do is fill the void. When remodeling your living room to make it more spacious, these two accessories are essential. You can find a number of websites that address this issue, but for the best results and articles, check out those that have a number of reviews and are also reasonably priced.
It's all about boards and slates
The use of peaceful and revolutionary thoughts and sayings by famous speakers can actually fulfill your expectations by giving a decent impression to guests and visitors at your newly purchased home or at your existing residence. A number of people do not prefer these slates and boards nowadays due to the belief that the style has become outdated. However, in reality, home interior design experts and interior designers nowadays are suggesting that people should outdo themselves by opting for this option.
Multicoloured Cushions
A normal sofa can look ten times better when it is upholstered with 2-3 multicoloured cushions. The arrangement is necessary but not sufficient. Placing the largest cushion at the end makes it better to avoid looking slightly off-centre, and arranging the smaller ones in a way they are not completely away but close to each other, so it doesn seem to be coming from different directions.
Antique and Vintage Clocks
It is true that antique clocks could be considered to be an excellent decoration for any living room, as they can add an elegant touch. In light of the wall type and the wallpaper you have chosen in the earlier pointers mentioned, you can find a clock that is in accordance with both on various websites available and also at a very competitive price.
Petal Art
This is an authentic and timeless piece of art that can be used by anyone with a modest budget to upgrade their living room. It comes in a wide range of designs and types and is considered to be a wise choice since it has the ability to transform any dull surface into one that is elegant. Definitely worth checking out if you're considering upgrading our living room scene.
Postcard Wall Arts
Though it might seem strange to use this type of decoration, many homeowners and home decor enthusiasts are turning to this particular method of decoration for a dynamic and refreshing living space. Any room, including bedrooms, kitchens, storage units, and living rooms, can be improved with postcards. A cheap yet effective decorative idea to get started with.
Bookcases
Among the finest alternatives, one can actually look up to as novels and bookshelves have become a necessity not only to store magazines and journals but to add more texture to your unorganized living room. Arrange the contents of the library in such a way that they appear to be more elegant than to look similar to those of a public library and make it appear more elegant. You can always use decor websites for the best and most reviewed solutions if you're unclear about the book arrangement.
Striped Carpets
For a living room that is a bit boring and not so attractive, consider purchasing luxurious striped rugs. Choosing one is tough because of the hundreds of designs and prices. Our goal is to simplify the search for the most suitable accommodations for your needs. A not-so-large striped rug is a great choice when choosing a new carpet for a not-so-spacious living room, say interior design experts.
As you can see, we have compiled you the best initiatives and ideas that industry experts have endorsed and have made it easier for us to list, primarily because we want to show you what you can do in your daily life and under a reasonable budget to give your living room a fabulous makeover in the best optimum and reasonable manner.
Besides these tips, there are numerous other options you can consider to make your living room appear larger.
Conclusion
Now that we have covered all the essential ideas that most people have noticed and switched to after spending time analyzing current market trends and their visitors' tastes, we would like to wrap up this innovative and informative article. You might be interested in abstract paintings, bookshelves, postcards, cushions, or any combination of these features. Please share your views with us and let us know what you like about them so far. Therefore, next time you call us, we will be able to give you a whole new updated list of decor plus items that will actually make it possible for you to rebuild not only your living room but your entire house. Now is the time to remodel the desired place using what we have provided here today.