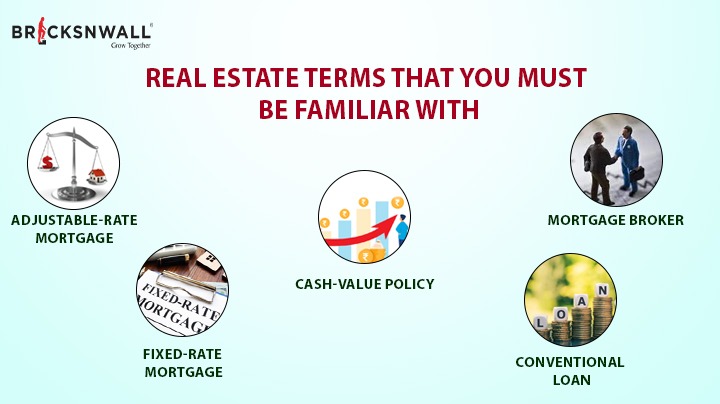 Real estate can be a complex field, and there are many terms that you should be familiar with. Especially when you are planning to buy or sell the property. In this article, we'll discuss ten essential real estate terms that you should know.
Adjustable-rate mortgage (ARM):
An ARM is a type of mortgage loan where the interest rate can fluctuate over time. This means that the monthly mortgage payment can change depending on market conditions. Fluctuations are prevalent in this mortgage and the rate can increase over time.
Fixed-Rate Mortgage:
Type of mortgage loan where the interest rate remains constant is termed "fixed rate mortgage". The uniformity is as it is throughout the life of the loan. It means that the monthly mortgage payment remains constant. Other steps get easier for buyers to budget their finances.
Cash-value policy:
A cash-value policy is a type of life insurance policy that allows you to accumulate a cash value over time. A cash-value policy is a type of life insurance policy that allows you to accumulate a cash value over time. This means that besides providing a death benefit, the policy also has a savings component.
Closing costs:
Closing costs are the fees and expenses associated with the buy or sale of a property. These can include things like:
1. Attorney fees,
2. Appraisal fees,
3. Title search fees and more.
Closing disclosure:
A closing disclosure is a document that outlines all the real estate associated costs. This document must be provided to the buyer at least three days before closing. In addition with accurate and complete disclosure.
Conventional loan:
A conventional loan is a type of mortgage that doesn't have any government intervention. These loans usually come with more stringent credit criteria than loans backed by the government. The only limitation is that they can also offer more flexibility and lower fees.
Mortgage broker:
A mortgage broker is a licensed professional who can help you find and secure a mortgage loan. Brokers work with multiple lenders and can help you compare different loan options. Selecting the best one for your needs becomes easier hence.
Escrow:
Escrow is a process where a neutral third party holds funds until certain conditions are met. Also, an escrow account may be used to hold funds for the buy of a property until all conditions are met.
Buyers Agent:
A buyer's agent is a licensed real estate agent who represents the interests of the buyer in a real estate transaction. The agent works with the buyer to find suitable properties, negotiate offers, and guide the buyer through the entire buying process.
Pre-Approval Letter:
A pre-approval letter is a document from a lender that shows how much money you can borrow for a mortgage loan. This letter is typically based on a review of your credit history, income, and other financial factors, and can help you determine your budget for purchasing a home.
In conclusion, knowing these essential real estate terms can help you navigate the process of buying or selling a property. Whether you're a first-time homebuyer or an experienced real estate investor, understanding these terms can help you make informed decisions and avoid common pitfalls.