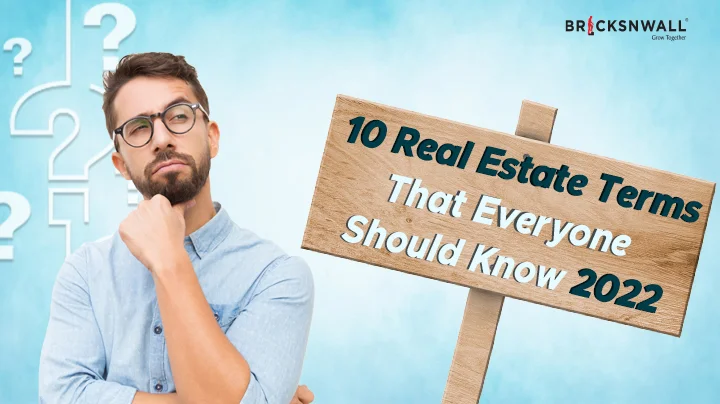 Before you begin the home-buying process, having a basic understanding of important real estate concepts will give you peace of mind now and could save you a fortune in the future.
In this blog, you can learn about various Real Estate terms which will help you in the home buying process. "Now, let's dive into the post to understand these so-called complex industry terms simply and seamlessly".
10 Important Terms of Real estate
1. Buyer's Agent vs. Listing Agent
When you buy a home, there are usually two agents involved: the "buyer's agent," who represents you, and the "listing agent," who represents the home seller. Dual agency occurs when only one agent represents both sides of a transaction and is prohibited in several states.
When purchasing a home, you do not pay your real estate agent; instead, they will receive a commission from the home seller, just like Bricksnwall Advisors.
2. Fixed-Rate vs. Adjustable Rate Mortgages
Mortgages with "fixed rates" and "adjustable rates" are examples of conventional loans.
A fixed-rate mortgage has an interest rate that is fixed for the duration of the loan, which is typically 15 or 30 years.
An adjustable-rate mortgage has a variable interest rate and is typically for five, seven, or ten years.
3. Pre-Approval Letter
Before you apply for a mortgage or even begin looking for a home, you should obtain a pre-approval letter from the bank, which is an estimate of how much money they will lend you. This letter will assist you in determining what you can afford and assure home sellers that you will be able to obtain a loan if one is required.
4. Listings
One of the first real estate terms you're likely to come across is "listings," which are homes for sale that are frequently referred to by real estate agents.
On a website, a "listing" displays information about the home, such as the price and number of bedrooms.
Rather than real estate portals, use sites from real estate advisors like Bricksnwall for the most up-to-date listings.
5. Home Inspection
After making an offer on a home, you'll almost certainly need to schedule a home inspection, which will cost between $200 and $500 depending on the market and size of the home.
Experts in Bricksnwall can help you buy a home. If we find something wrong, you can ask the home sellers to fix it or lower the purchase price of the home.
6. Appraisal
When you apply for a mortgage, your lender will request an appraisal of the home you wish to purchase. A licensed appraiser will estimate the value of the home based on comparable homes that have sold in the area and an examination of the property.
Before making an offer, you can ask our home-buying or real estate agent to perform a comparative market analysis, which will tell you how many comparable homes in the area have sold.
7. Contingencies
When you make an offer on a home, you can specify certain conditions that must be met before the transaction can be completed – these real estate terms are known as contingencies.
You must ensure that you will be able to obtain the loan (a financing contingency), that the inspection will reveal no issues (an inspection contingency), and that the appraised value is close to what you are willing to pay (appraisal contingency).
8. Offers and Contracts
Once you've found the perfect home, you'll make an offer on it with the assistance of a real estate agent or attorney. If the seller counters your initial offer, it is usually because they want more money or a faster closing date.
Choosing an experienced realtor is critical to negotiating successfully. Bricksnwall publishes all of its agent's reviews, good and bad, so you can decide if you want to work with them.
9. Closing Costs
When buying a home, be prepared to pay a lot of fees. Closing costs are typically 2-5 percent of the purchase price of the home, not including the down payment.
10. Title Insurance
Title insurance is typically required as part of the closing costs by most mortgage lenders. Title insurers search public records to ensure that the home seller owned the title and that there were no liens on the property.
The Bottom Line
Being unfamiliar with Real-Estate terminology can lead to a home buyer being duped by the builder. Instead of being the target, consult the experts, who will make the difficult process of purchasing a home easier.