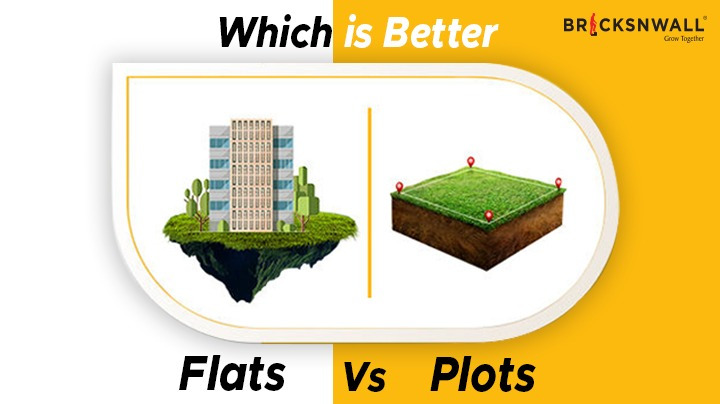 In India's major cities, apartment culture has taken over the residential market. Apart from that, people still harbor the desire to purchase a plot of land and construct their own homes. If you intend to do so, you must carefully consider factors such as construction costs, appreciation, financial assistance, and income.
In this certain blog, you'll get notable clarity in-between flats and plots and eventually end up making a wise decision accordingly to choose for you out of two. Let's dive now!
Flats vs Plots
Purchasing independent land means having the freedom to build a house based on one's own needs. A flat apartment, on the other hand, is a redesigned, multi-floored structure.


The apartment buyer has no control over the shape and size of the construction area. However, it has significant advantages in terms of security, accessibility, and location.
Elements to Consider to Choose Between Flats and Plots


Here are various parameters that can be used to compare the two options and to choose one confidently.


1. Monetary assistance


Obtaining financial assistance for the purchase of a plot is more difficult than for the purchase of a flat because financial institutions tend to avoid lending for the purchase of a plot.


2. Value appreciation


Due to the dwindling availability of space in cities these days, a plot is expected to appreciate exponentially more than a flat.


3. Flexibility


A plot has greater flexibility because it can be built to suit the needs of the owner, whereas a flat's modification and expansion options are limited.


4. Tax


The monthly loan repayment allows you to save tax when you take out a home loan to buy a flat or a builder's floor. In the case of plots, the tax deduction for interest is only allowed once the construction is completed.
5. Rental revenue

Plots generate very little income and are more likely to be sued, whereas flats generate higher rentals.
6. Delivery
While it may take months or even years to obtain possession of an apartment, plots are typically ready for occupancy. If you choose a plot in a township, you will most likely be able to take possession of the plot sooner than if you chose a flat.
The Bottom Line
To wrap it all up, both plots and flats have benefits and drawbacks, so the best approach would be to select one after considering your needs, financial capabilities, and liabilities.
If you are simply looking to invest your funds for a few years until you are ready to invest in a flat, a plot in a location that will see future appreciation is a good idea. However, if you want consistent returns, you should consider investing in a flat.
How Can A Real Estate Consultant Help You?
At Bricksnwall, we strive to make your property search or sale as easy and enjoyable as possible. We provide you with free best Home Advice based on reliable market data and actionable intelligence.
Book your slot today for Free with Bricksnwall to clear off all your doubts and queries across the real estate space.