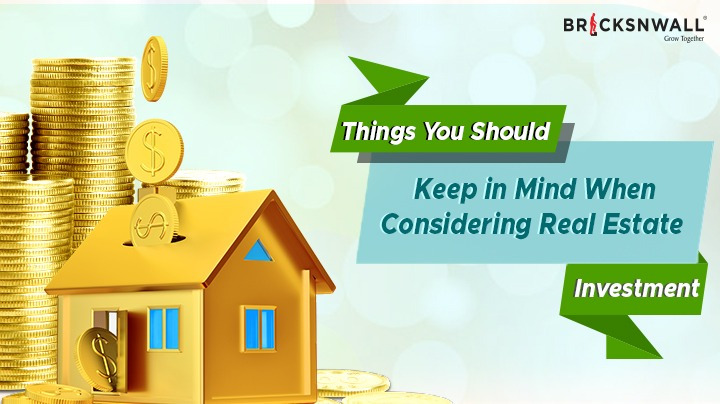 Because of the massive economic boom in most Indian cities, the average income has increased, providing us with additional incentives to invest for the future, and real estate may be the ideal investment choice for you. A wise investment has the potential to transform our lives by providing us with sufficient funds to pursue our dreams.
In this blog, you will get through the preventive steps that you should consider before opting for Real Estate Investment.
Points You Should Consider Before Investing In Real Estate
Someone with no prior real estate experience may be swayed by the allure of profits and invest in real estate that provides no returns.


1. Investigate the property
Failure to conduct research before purchasing may result in later regret, negating your investment. With so many projects on the horizon, it can be difficult to choose the right real estate investment, especially since sellers are notorious for sweet-talking buyers.
The amenities provided, the history of the construction company, the materials used, and the area in which a property is located can all have an impact on the returns you receive on your investment.
2. Examine the documents
All property papers should be checked by legal experts to ensure their authenticity; failing to do so may result in you purchasing a property that is mired in controversy. People frequently sell properties below market value, which should raise a red flag because such properties may be involved in litigation or have internal issues with the owner. Purchasing a property without clear titles can result in lengthy court cases or litigation, effectively nullifying the investment.


3. Examine market rates
Researching market rates and analyzing trends can help you extrapolate the returns you can expect in the future. Knowing the market rate can help you track local trends and avoid being duped into paying more than the property is worth.
4. Calculate your financial situation
It is critical to calculating your finances to ensure that you meet certain goals. While getting a loan from a bank is simple, calculating the interest and other factors is critical.
5. Negotiate
Negotiations are an important part of the Indian Real Estate Investment because everyone wants a good deal that will make them richer.
Knowing how to negotiate can help you save a lot of money and get extra perks like parking spaces, furniture, and so on.
Consult Our Investment Experts!
Contacting a Real Estate consultant can be a great way to figure out the best strategy for achieving your investment goals. If you decide that real estate investment is the best option for you, contact Bricksnwall, the best Real Estate Consultants, to explore your home financing options and find the best investment opportunities.