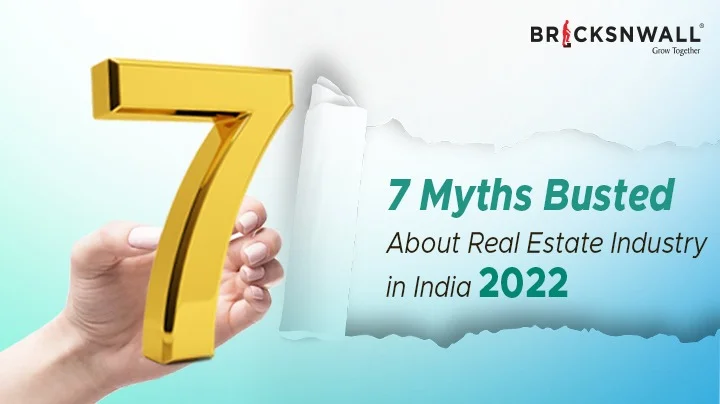 Real estate is a common topic that comes up in all group conversations, including those of families, friends, and co-workers. We all form our own beliefs, whether knowingly or unknowingly, based on our perceptions.
In this blog, we'll assist you in dispelling the Real Estate Myths that almost 80% of home buyers have.
Reel vs Real
Myth 1: RERA is now in effect, allowing home buyers to choose any project without conducting extensive research

RERA only applies to projects larger than 500 square meters in size and with eight or more housing units. To be RERA compliant, a builder must also be registered with the RERA board.
Our Expert's Advice:
Before proceeding, ensure that your builder is registered with the state's RERA board to benefit from the RERA's protection.
Myth 2: Renting is less expensive than purchasing a home
This is one of the most common misconceptions. According to the Economic Times survey, rental prices are rising in all cities across the country, with some cities seeing increases of up to 26.2 percent.
Buying a home is a huge benefit, especially in retirement, when there are no paychecks to pay the rent.
Our Expert's Advice:
Buying a home is a better option than renting in every way – tax breaks, property price appreciation, and the incredible freedom that comes with owning a home all make purchasing a better option than renting. Our Bricksnwall Real Estate consultants can also provide you with free home buying advice.
Myth 3: When it comes to selecting homes, the builder makes no difference
Choosing a builder who is not focused on the customer can result in a lot of frustration for home buyers.
To save money, such builders frequently use low-quality fittings in their homes. As a result, you must select a reputable builder with a track record of completing high-quality projects on time.

Our Expert's Advice:
Connect with other home buyers who have purchased from the same builder to get a clear and accurate picture of what to expect from a builder. Furthermore, you can contact our Bricksnwall consultants for free advice on specific projects.
Myth 4: Homes that are still under construction are less expensive than projects that are ready to move
While under-construction projects may appear to be less expensive at first glance, ready-to-move-in properties provide better value for money for end-users.
Under construction projects are still not completely safe, but they do offer significant savings on luxurious properties.
Our Expert's Advice:
If you want to invest in a new construction project, go with one offered by a reputable builder with a proven track record.
Myth 5: Purchasing Real Estate with Offers is a wise decision
Not everything that glitters is gold. This cannot possibly be true in today's internet age. You simply need to know where to look and have some time on your hands.
Our Expert's Advice:
If you don't have the time or energy to do additional research when looking for a home, you can get free home buying advice from our Bricksnwall consultants who can get you the best deal.
Myth 6: Real-estate investments are fraught with danger
This is the most significant of all real estate investments. Real estate is one of the low-risk investments that has produced the greatest number of millionaires worldwide.
However, because the stakes are so high, people frequently become overly cautious and postpone their decisions, which can be dangerous in and of itself.
Our Expert's Advice:
To reduce the inherent risks of real estate, be wise and invest in projects offered by reputable builders. For more guidance before investing you can consult an Investment guide or Real Estate, Consultant.
Myth 7 – There is no benefit to using a real estate agent
In reality, real estate agents can provide you with invaluable market knowledge as well as access to homes for sale that you would not have known about otherwise.
They can also use their knowledge to negotiate the best possible price on your behalf, as well as guide you through the paperwork and complicated process of buying or selling a home.
Our Expert's Advice:
Instead of paying a high fee or hiring a real estate agent, you can get free home buying advice from our Bricksnwall Experts and have the best consulting experience.
Final Thoughts
There are many real estate myths out there, but no matter what you've heard, the Bricksnwall team is here to dispel them. We are happy to assist you in understanding so that you can make informed decisions based on facts rather than myths.
Congratulations on finding your dream home!