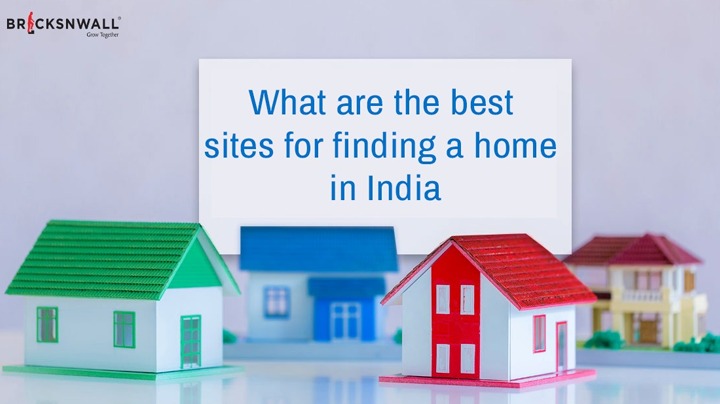 Finding a suitable home in India can be a challenging task, considering the vast and diverse real estate market.
In this blog, we will focus on Bricksnwall, one of the best sites for finding a home in India, and explore its features and benefits.
Bricksnwall: Overview and Features
Bricksnwall is a leading online platform that connects home buyers and sellers across India. It offers an extensive database of residential properties, ranging from apartments and villas to plots and commercial spaces. The platform's user-friendly interface, advanced search filters, and comprehensive property listings make it a go-to choice for home seekers.
The wide range of property listings offered by Bricksnwall covers diverse cities and towns across India, catering to the preferences of different home buyers. Whether you're looking for a residential property in a bustling metropolitan city or a serene suburban area, Bricksnwall has options to suit various locations and lifestyles. Moreover, Bricksnwall allows users to filter their search based on specific criteria such as price range, property type (apartment, villa, plot, etc.), and desired amenities. This functionality enables users to streamline their search and focus on properties that align with their preferences, saving time and effort in the process.
Wide Range of Listings:
Bricksnwall provides a wide range of property listings from various cities and towns across India. With thousands of options available, users can easily search for homes that match their specific requirements in terms of location, price range, property type, and amenities.
Detailed Property Information:
Each property listing on Bricksnwall includes detailed information such as property specifications, floor plans, amenities, nearby facilities, and high-quality images. This allows users to evaluate properties comprehensively and make informed decisions without the need for physical visits initially.
Interactive Virtual Tours:
One of the standout features of Bricksnwall is its interactive virtual tours. Users can explore properties virtually, getting a realistic feel for the layout, design, and overall ambiance. This feature saves time and effort by narrowing down the options before scheduling in-person visits.
Verified Listings and Genuine Sellers:
Bricksnwall prioritizes authenticity and transparency by ensuring that all property listings go through a verification process. This reduces the risk of fraudulent listings and increases trust among users. Additionally, the platform only allows genuine sellers, including reputed developers, builders, and individual property owners.
Local Insights and Neighborhood Information:
Bricksnwall provides valuable local insights and neighborhood information for each property, including details about schools, hospitals, transportation, and nearby amenities. This helps users evaluate the overall livability and convenience of a particular location.
Conclusion
When searching for a home in India, utilizing reliable online platforms can greatly simplify the process. Bricksnwall, with its extensive listings, detailed property information, virtual tours, verified listings, and neighborhood insights, offers a comprehensive solution for home seekers. By leveraging the features and benefits of Bricksnwall, you can increase your chances of finding the perfect home that meets your specific needs and preferences. In addition, Bricksnwall user-friendly interface and advanced search filters make it easy to navigate and customize your search according to your preferences. The platform's commitment to authenticity and transparency ensures a trustworthy and reliable home-buying experience. With Bricksnwall, finding your dream home in India becomes a convenient and efficient process.