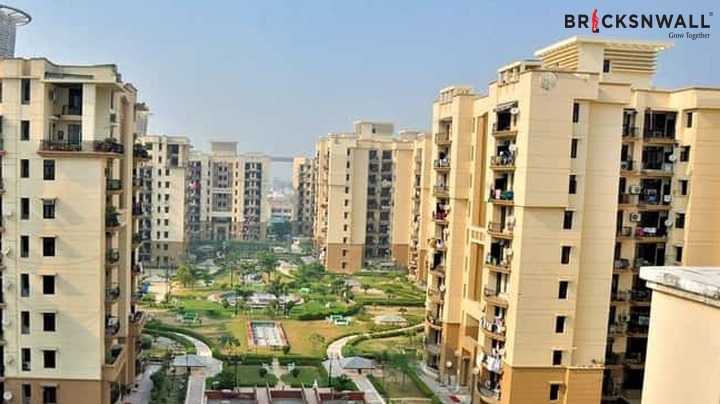 Noida Extension is rapidly developing as a city that offers a lot of opportunities to all people. All year, there are migrants who are welcomed here with open arms. Property in Noida Extension is a lucrative investment these days as the market is growing and healthy returns are expected. The real estate here is backed by the factors such as physical infrastructure, economic status, social infrastructure, and so on were taken into account in the Index. There are many top developers that are bringing uniquely themed Residential projects to Noida Extension. Let's have a glance at the top projects that you can consider before you make the final decision.
Panchsheel Greens 2: It is one of the best residential complexes that feature well-designed apartments, independent floors, and villas in a variety of price ranges, starting from INR 40 Lacs by Panchsheel Group. Panchsheel Greens 2 is a ready-to-move housing society that is the ideal blend of comfort and style and has been custom-built to meet your specific needs and preferences. One of the amazing housing societies is Panchsheel Greens 2, which spans 26 acres in Greater Noida and is located at "Noida Extension, Noida - 201305." This project offers 2BHK/3BHK which are independent floors, and 4BHKs are villas. Panchsheel Greens in Greater Noida West comprises 28 towers with 25 floors each and 4216 units.
Panchsheel Hynish: This Residential project has a beautiful appearance that would charm most occupiers. It is one of the larger societies in the Greater Noida region. It is Location in Greater Noida is 'Panchsheel Buildtech Pvt. Ltd, Sector 1, Bisrakh Jalalpur, Greater Noida, Uttar Pradesh–203207' which lets the township and its potential buyers relish the best form of amenities. The well-planned Panchsheel Hynish project is available in the price range of INR 53 Lac to 70 Lac. It is spread over a sprawling area of 7.41 acres. A total of 1312 ready-to-move units are available in the project. This project offers 2BHK+Study of 1197sqft, which is unparalleled and value for money. The residential units provided are spacious and this well-designed site has 12 towers, each with its own advantage.
Panchsheel Pinnacle: Everything here is at the top of greatness. Panchsheel Pinnacle is a ready-to-move residential project with the perfect balance of updated architecture and features to make sure of a cushy living environment. It also offers other facilities, including the best location in Sector-16 B, Greater Noida. Panchsheel Pinnacle is a premium high-rise residential project in Noida Extension that spans 2 acres of land and features sprawling 2/3 BHK apartments that are large, well-ventilated, and visually excellent. Panchsheel Pinnacle Greater Noida West has 3 towers, with 29 floors each and 688 units on offer.
Spring Homes: It is a world-class project located in Sector 1 Greater Noida West, Greater Noida. Spring Homes is an innovative and new-age residential project with 3BHK/4BHK. Starting from 55 Lac. Spring Homes set one's heart on lifestyle and offer convenient living. If you are a sports freak, there are amenities meant for you such as Basketball Court, Badminton Court, Cycling & Jogging Track. Some other provisions include access to Community Hall.
Apex Aura: It is located in the core of the city, Sector 1, Noida Extension. Apex Aura is the most awaited residential project that will have your pulse pounding all over again and is created not only for contemporary style but also for spectacular architecture with wonderful peacefulness surrounded by lush flora. The project is under construction, which makes it the right choice for investment. Apex Aura offers well-designed 2BHK and 3BHK apartments. The Apex Aura project consists of ‌5 towers and a land area of 4.5 Acres. Designed with world-class infrastructure, it's an epitome of beauty with facilities.
Express Astra: It is a multi-storied property located in Sector 1, Noida Extension. The apartment has all the modern amenities. This project is designed with spacious and airy homes. All apartments are designed with amazing light and air ventilation, with maximum internal usage area. It is located near the FNG corridor, & all kinds of other facilities like hospitals, and Metro Station are in its vicinity. Express Astra is in the design stage and shall be commenced very shortly.
Ace Aqua Casa: It is one of the spacious residential townships in Greater Noida West by ACE Builders. The project includes 2 BHK, 3 BHK & 4 BHK Apartments, Shops, and Studio Apartments. The project offers world class residential units with the latest specifications that meet the requirements of the urban lifestyle. It offers apartments in varied budget ranges. Its units are explicitly designed to suit the requirements and conveniences. There are 2 BHK, 3 BHK, and 4 BHK apartments available in this project with a starting price of Rs. 50 Lakhs. Spread over an area of 10.76 acres, Ace Aqua Casa is one of the most commodious housing societies in the Greater Noida region. The project has 16 towers and a total of 1478 units. Ace Aqua Casa has 21 floors with all the basic amenities available and it fits into your budget and lifestyle.
Fusion Homes: It is a residential project built by Fusion Buildtech Pvt Ltd in Greater Noida West. They provide 2BHK, 3BHK, and 4BHK from 45 Lac onwards. This project is RERA-certified and known for its eco-friendly homes. All apartments are furnished across all the bedrooms and are complemented with modular kitchens. This residential township is sustained by a swanky world-class shopping mall - Fusion Bazaar and Food Court. Every apartment has safety lockers to keep valuable assets. Such a gamut of amazing features makes investing in a property in this project worthwhile.
Ace Divino: It is a blend of luxury, comfort, & nature situated in Noida Extension. It deals in 2/3/4 Bhk apartments at a reasonable price rate from 65 Lac. Ace Divino offers homes that will make your dream come true of a blissful living. Ace Divino offers a suite of outstanding facilities for the residents to experience and enjoy a contemporary lifestyle in the Noida Extension. Some of these include a clubhouse, shopping complex, swimming pool, senior citizen hall, etc. Other amenities include a badminton court, basketball court, gym, indoor games, jogging track, tennis court, skating rink, and spa.
Trident Embassy Reso: It is one of the popular residential projects that is located in Greater Noida West, Developed by Trident Infrahomes Builder. Trident Embassy is a ready-to-move housing society in Sector 1, Greater Noida West, Greater Noida. It offers apartments in varied budget ranges. These units perfectly amalgamate comfort and style, specifically designed to suit your requirements and conveniences. There are 2BHK, 3BHK, and 4BHK apartments available in this residential project. This housing society is now ready to be called home as families have moved in.
Gaur Saundaryam: They offers 3/4 BHK to those who are on the lookout for serenity and refuge in nature as well as the convenience of location. It has a fully operational Clubhouse comprising a swimming pool, sauna, steam, etc, which will enable you to rejuvenate after a day's hard work. Gaur Saundaryam is situated in Greater Noida West in high proximity to Delhi.