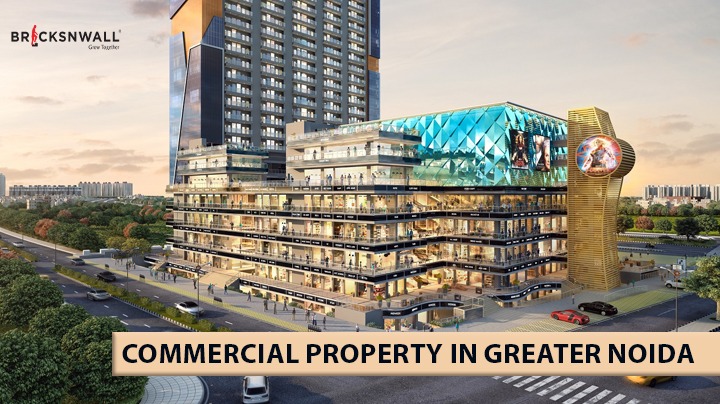 A prospective location for commercial real estate investments has emerged: Greater Noida, a thriving city in India's National Capital Region. Greater Noida presents profitable prospects for firms wishing to establish their presence in a vibrant and quickly expanding market because of its strategic location, good connectivity, and solid infrastructure. We will highlight a few notable commercial properties in Greater Noida along with their distinctive qualities in this blog.
Another important element that draws firms to the area is its strong infrastructure. Industrial districts, commercial zones, and institutional sectors are all well-planned and located in Greater Noida. These industries have been carefully planned to offer firms a favourable environment for development and growth. Modern office buildings, business complexes, and shopping malls are readily accessible, meeting a variety of purposes.
Additionally, Greater Noida has been the subject of important government programmes and initiatives that support the growth of business and industry. Tax breaks, ease of doing business, and support for infrastructure development are just a few of the incentives and benefits the city gives to entice new enterprises. Greater Noida is a desirable investment location for both domestic and foreign businesses due to these favourable conditions.
Bhutani Grandthum:
Bhutani Grandthum is a high-end commercial development that is a work of art in architecture. It provides a fusion of contemporary style and cutting-edge amenities, making it the perfect option for organisations of all sizes. This commercial complex includes roomy office spaces, retail stores, and recreational amenities. It is situated in a desirable neighbourhood of Greater Noida. Bhutani Grandthum offers a fluid and comfortable working environment because of its superb infrastructure, quick lifts, and enough parking.
Golden I:
Another well-known commercial block in Greater Noida that meets the changing needs of businesses is Golden I. This integrated property offers serviced apartments, retail space, and office space that have been thoughtfully designed. Golden I creates a perfect corporate ecosystem with its modern architecture and eco-friendly features. Additionally, the project has great connectivity to important transit hubs, making it convenient for both workers and guests. The world-class facilities at Golden I create the conditions for growth and achievement.
Golden Grande:
Elegant design and practicality come together in the outstanding commercial property known as Golden Grande. It provides a variety of office spaces and retail locations created to fulfil the various needs of businesses. The property is praised for its contemporary facilities, which include high-speed internet connectivity, power backup, and 24-hour security. Greater Noida's Golden Grande is ideally situated in a prominent business neighbourhood, offering firms exceptional exposure and accessibility. Golden Grande offers countless opportunities for growth and expansion because to its effective floor patterns and adaptable spaces.
Conclusion:
For companies looking to make a significant impact in a rapidly expanding sector, Greater Noida offers a wide range of commercial property possibilities. Unique features and facilities are provided by buildings like Bhutani Grandthum, Golden I, and Golden Grande that improve the working environment and support corporate growth. Buying commercial property in Greater Noida can be a smart move, regardless of whether you are a startup, expanding business, or existing organisation. Businesses wishing to grow and succeed may consider moving to the city because of its advantageous location, strong infrastructure, and forward-thinking business climate.