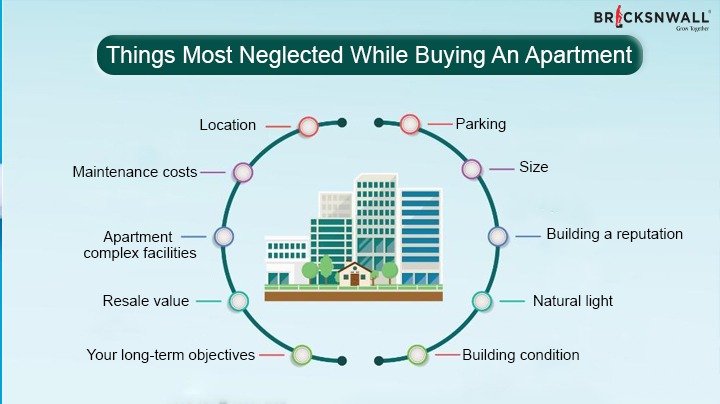 It can be a thrilling but overwhelming experience to purchase an apartment, and it's simple to forget some important details when making such a significant investment. When buying a flat, the following items are frequently overlooked:
Location: An apartment's place is significant and can significantly impact your everyday life. Considering how close a site is to amenities like restaurants, grocery stores, and public transportation is critical. You should also look at the neighborhood and consider security and noise levels. Making the appropriate choice for your location can simplify and improve your life.
Maintenance costs: These costs are your responsibility if you purchase an apartment. It's critical to account for these costs in your budget because they vary greatly. Ensure you comprehend the charges and whether there are any hidden expenses you should know. Future financial surprises can result from failing to factor in maintenance fees.
Parking: Finding a parking spot can be a big problem if you own a car. Ensure you know the kind of parking alternatives offered and whether there is an additional charge. While other apartments could include a parking garage or designated parking spaces, some provide street parking. Make careful to account for parking if you need it when making a decision.
Size: An apartment's size can be misrepresented in images and virtual tours. To verify that your furniture will fit, visit the flat in person and take measurements of the spaces. Consider your lifestyle and the amount of room you require as well. If the size isn't considered, you could feel crowded and uneasy in your home.
Apartment complex facilities: Many apartments have a gym, pool, or community room amenities. Although these amenities may be helpful to and increase the value of the building, they frequently incur additional costs. Please ensure you know the amenities offered and whether they are worth paying for.
Building a reputation: It's crucial to evaluate the building's importance. To get a feel for the neighborhood and management, research the facility and speak with the present tenants. The reputation of the building should be taken into consideration to avoid unpleasant shocks in the future.
Natural light: Natural light profoundly affects your state of mind and general well-being. Ensure you consider the apartment's exposure to natural light and whether it is sufficient for your needs. A dark and gloomy living space might result from failing to consider natural light.
Resale value: Although it's not typically the first item on a buyer's mind, considering an apartment's resale value is crucial. To evaluate if a property's value will increase or decrease, consider its past and the neighborhood. If resale value is not considered, it may be challenging to sell the flat.
Building condition: The state of the building is essential and can affect your standard of living. Keep an eye out for any symptoms of abuse or neglect, such as flaking paint or water damage. Also, consider the building's age and whether any renovations are required. Lack of attention to the building's upkeep might result in unforeseen costs and a decline in quality of life.
Your long-term objectives: It's crucial to consider your long-term goals before making a flat purchase. Do you intend to start a family? Will you ever require an additional room? Do you want to occupy the flat permanently, or will you use it as an investment property? Buying something without considering your long-term goals could result in frustration and trouble reaching them.
Conclusion
In conclusion, buying a flat is a significant investment, so it's vital to consider all the options before choosing. You can make sure that you make a well-informed decision that will match your objectives and goals by keeping in mind these frequently overlooked factors. When buying, spend some time investigating the area, the structure, the amenities, and the upkeep costs. You should also think about your long-term objectives. Be bold and ask questions and, if necessary, consult a real estate expert.
Remember to consider these things to avoid unforeseen costs, worse quality of life, and trouble reaching your long-term objectives. You can ensure that you find the ideal flat that suits all your needs by using a thorough approach to your flat search.